Aug

06
Arizer Solo Vaporizer Review (August 2018)
Introduction
Arizer is one of the best Canadian vaporizer manufacturers. They are known for creating reliable and sturdy vaporizers that accommodate the needs of beginner to advanced users.
Since the development of Arizer Solo, this company has released several other new and improved products.
So, you may wonder why are we reviewing this product when there are so many newer and better products from their line.
The truth is that this tool quickly set the standard for many other companies trying to imitate and one-up their technology, which is exactly the type of impact we are looking for in tech.
Arizer developed several bigger versions of their own vaporizers, some of which are now setting industry standards when it comes to vapor quality and technological innovation.
Arizer Solo comes in three different versions: the standard Solo, Solo 2 and Solo NLE (Northern Lights Edition).
Seeing how we'll have a completely separate article for the Arizer Solo 2 review, we won't mention it now as Solo's competitor.
The remaining major competitors to Arizer Solo are all the products from the Pax line, as well as the Ghost MV1 and Arizer's very own model, Arizer Air.
What's in the Arizer Solo box?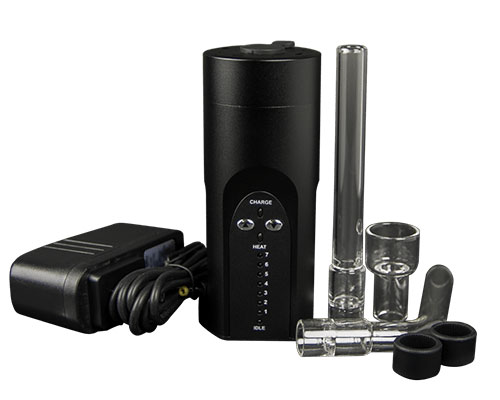 The Arizer Solo comes packed with a bunch of stuff.
1 x Solo Portable Micro-Heater
1 x Solo Charger
1 x Solo Glass Aroma Tube (Curved)
1 x Solo Glass Aroma Tube (110mm)
1 x Solo Glass Aroma Dish
2 x Solo Silicone Stem Caps
1 x Stainless Steel Stirring Tool
1 x Sample Aromatic Botanicals
1 x Solo Instructions Booklet
Arizer Solo tech specs
6/10
The Arizer Solo battery life is quite decent, as it can last up to 90 minutes.
Most people say it will give you between 5-7 sessions per charge, with an average 12 minute session. It has a unique charger, which means you better not lose the cable or you'll have to ball out for a new one.
Their website claims it can last for over 2 hours when turned on low heat, but the practice has proven that to be false.
For me, that's a huge letdown.
Compared to my G-Pen Elite, which has a standard micro-USB charger, also known as the Android charger, which gives you a lot of flexibility in regards to your charging options, this basically means you always have to have it on you, making it another thing you can't afford to lose.
The battery pack is also replaceable, and Arizer will be more than happy to do that for you, for a small fee of course.
Arizer Solo comes packed with a lot of additional gear. You'll get a straight, and curved glass tube, as well as a stirring tool and a few other minor things.
The glass tubes are perhaps the most vulnerable parts of the kit as one simple drop will break them, I can vouch for this from personal experience.
Arizer Solo doesn't have a LED-screen, but rather 7 levels of temperature which are maneuvered with arrow buttons.
The Arizer Solo isn't really great for smoking concentrates such as hash, budder, shatter or any other for that matter.
You can smoke concentrates, but this tool isn't meant for that. The only way you would smoke concentrates with the Arizer Solo is by putting them in between two layers of weed.
Arizer Solo vapor quality
9/10
The airflow on the Arizer Solo is very good, as both the curved and the straight glass tube are quite long. This gives time for the vapor to cool down and lose harshness, but doesn't lose any of the flavor.
Tasting the weed flavor is something many people vaping are really looking forward, and this is something Solo will enable you to do without a drop of doubt. You will taste even the slightest terpene levels depending on the temperature you are vaping at.
Vapor coming from Solo is usually extremely thick, aside from being cooled down, which also helps with its flavor. One user on Youtube once described vaping with Arizer Solo to be similar to drinking a milkshake.
Arizer Solo Design
6/10
The design team behind Arizer did one hell of a job, but it just isn't enough, in my opinion.
I would love for it to have an LED screen, something they added in Solo 2, and the buttons on the Solo are just ugly, plain and simple.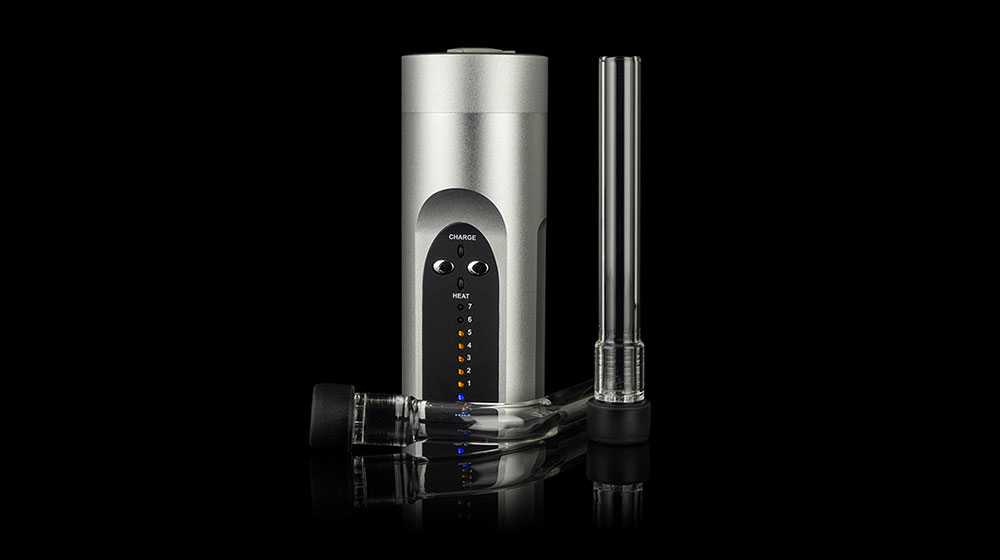 The biggest design flaw is the glass tube which is easily breakable, and trust me, it was a tough fight between the tubes and the charging port type.
However, the rest of the Arizer Solo is extremely sturdy and it won't break even if you drop it from 5-6 feet on ground. So, for what it's worth, the actual tech is pretty sturdy, just if you drop it with the tube attached, you won't be able to vape until you buy a new one.
How to use Arizer Solo
Using the Arizer solo is rather straightforward. The chamber is located outside of the device, and is actually a part of the glass tube.
The Arizer Solo unit stays pretty clean thanks to this solution, and makes it easier to pack as well.
Here's how to use it:
Push both buttons to start up the heating process;
Select temperature level with up/down arrows;
Give it some time to reach selected temperature
Start drawing vapor by creating a vacuum with your mouth and the end of the glass part.
Solo has a 12 minute automatic shut-down mode, in case you forget to turn it off.
Even the folks at the Arizer say that vaping with Solo can sometimes be a bit tricky:
"Drawing vapor from this system can be challenging, mainly because of a tight draw".
If you notice resistance while taking a draw, slide and shift the glass one or two millimetres in order to improve the airflow.
Arizer Solo is a great pick for first time users that are looking to try out this type of cannabis consumption. It's relatively straight forward when it comes to using it, and doesn't require almost no cleaning and maintenance.
In fact, the only part that you'll be needing to clean is the glass part.
You can clean it by soaking it in a bowl filled with isopropyl alcohol and it should look spanking new again in a few minutes.
The post Arizer Solo Vaporizer Review (August 2018) appeared first on Greencamp.
Source: https://greencamp.com/arizer-solo-vaporizer-review-august-2018/